Best Web Designer in Calicut to mould unparallel designs for your websites.

Freelance Web Designer in Calicut offers reliable web services
Responsive Web Development Calicut
We develop best quality highly responsive websites which will adopt to any display screens and compatible with multi browsers.
Reliable web designer in Calicut
Having designed and developed more than 1200 websites, we belong to the one of the most reliable web design agencies in Calicut.
SEO Friendly Developers Calicut
Search Engine Optimization demands at most care during the development, we do well on playing with essential SEO meta tags on sites
eCommerce Web Development Calicut
eCommerce and online shopping website developers in Calicut offers cheap and best yet good quality error free web development
Custom Web Designing in Calicut
Custom designed websites are developed according to the client specifications and requirements, Customized web solutions in Calicut
CMS Website Development Calicut
Best CMS website developers in Calicut, we develop CMS websites in PHP, WordPress, Joomla and Magento.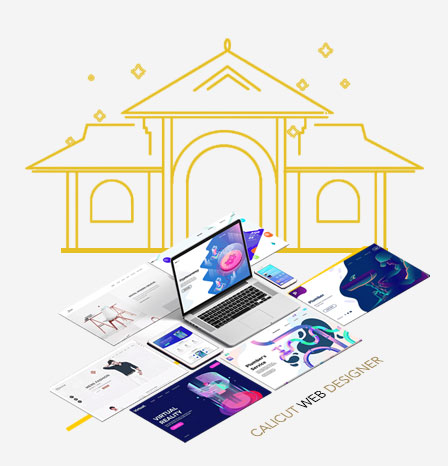 Top web designer in Calicut to offer innovative out of the box website development services in low cost
Professional web designer with over 15+ years of experience in designing fabulous high end websites for many companies all over Kerala, our excellency is not for someone else to notice, but is for our own satisfaction, yes, we design and develop websites to inspire ourself, being the best web design agency and freelance web designers in Calicut we have had developed number of excellent web designs for our clients. We focus on customized web designs which has unique a visual effect. So, before you choose a web design company in Calicut or a freelance web designer in Calicut, have a look at my web design portfolio, please visit few of the beautiful websites I have developed for various industries.
I have developed more than 1200+ beautiful websites for the clients across the world. I'm specialized in developing responsive websites with unique design. My mission is to build effective and efficient websites which will work flawlessly on all modern devices. I have a team of highly skilled web professionals with me to offer you the best in class web development which will delight you as much as your customers. We will deliver you the top notch websites on time. We make sure that, the site is cross browser compatible and device responsive and will work hassle free on all the modern devices
Passionate and professional web designers & developers here to make it look good.
Based on the detailed discussion with the client, we make web designs from scratch which is specific to the nature of the business. We do not use any readymade template; we bring innovative ideas to make it look fresh and outstanding. More over we give special attention to not to use any readymade CSS files with unnecessary codes in it. We use minimal CSS code to make sure to reduce the server load.